Happy New Year! So many of us have been anxious to close the book on 2020 and start a new one in 2021. Well, that day has finally come. In the upcoming days, we are going to be sharing some reflections from our team on the year, 2020.
To begin, here is a thoughtful reflection written by Mary Ann Schmidt:
"The year's end is always a time of reflection. 2020 was unlike anything we have experienced in our lifetime. The pandemic took center stage early in the year and has been a continuing focal point throughout – and it still is. How has life changed this year? How will we remember it looking back?
I recall being so excited for a three-week vacation to Florida to visit with friends and to just have a bit of time away. I'd never taken so much time away from work before. We left on February 29 – and returned on March 21. We flew on a normally crowded airplane, saw the normal amount of people in the airports, waiting in the normal line to get the rental car – and off we went to Palm Coast. We bought a 30-day membership at the Planet Fitness – just 5 minutes away. The first day we were there, the gym was full. As each day came, the news on Covid got darker and more ominous. Each time we went to Planet Fitness it was noticeably less crowded. After 2 weeks it was closed!
Still, we enjoyed the sunshine and the perfect weather in Florida for those 3 weeks. We visited with friends, did outside dining, saw the manatees, walked the neighborhood, went to the ocean. Our daughter and her best friend came to visit us as well, before we fully understood the severity of the virus outbreak. Working a bit – I managed to put two properties under contract while there in Florida.
Returning to the Boston Regional Airport in Manchester NH on a routine Saturday afternoon flight, the number of people on that plane dropped to 20 percent. We were not wearing masks but we brought Clorox wipes and disinfected our seat and arm rests – and did not touch anything. No food – no drink – no lavatory. We could not wait to get off that plane. And when we pulled into Manchester it was like a ghost town. Our plane was the only one at the terminal. No lines and no waiting to pick up our bags at the carousel. No vendors were open. There was just one person working at the Dunkin's station inside the airport. Our son picked us up outside – no other cars around. Driving back to Moultonborough felt like we were in a science fiction movie. Very few cars around and even fewer people in sight. Very quiet.
Returning on March 21, 2020 – the world shifted. Certainly, our real estate business was bound to be in trouble. Is real estate an essential service? How are buyers and sellers going to move? Are the moving companies essential? Will they be able to cross state lines? Thankfully, we were able to find out that these services were essential. Now – how do we stay safe and how do we keep our buyers and sellers safe in this pandemic? As the weeks went by, we adapted and figured it out. Stocking up on disinfectant wipes, hand sanitizer, gloves and masks, instilling social distancing, we managed – and we kept going.
The demand for housing caught many realtors by surprise. Buyers from the southern part of New Hampshire, Massachusetts, Rhode Island, New York and Connecticut were making inquiries – and they wanted to see homes. We leveraged technology and did Zoom calls and video chats to show properties. Appraisers did drive by appraisals – not stepping into homes. Inspectors were the only ones to step into homes – no one else could attend. Title companies did closings outside in parking lots. If you were not a buyer or a seller you were not invited to the closing. The less contact the better. Everyone understood. And business got done.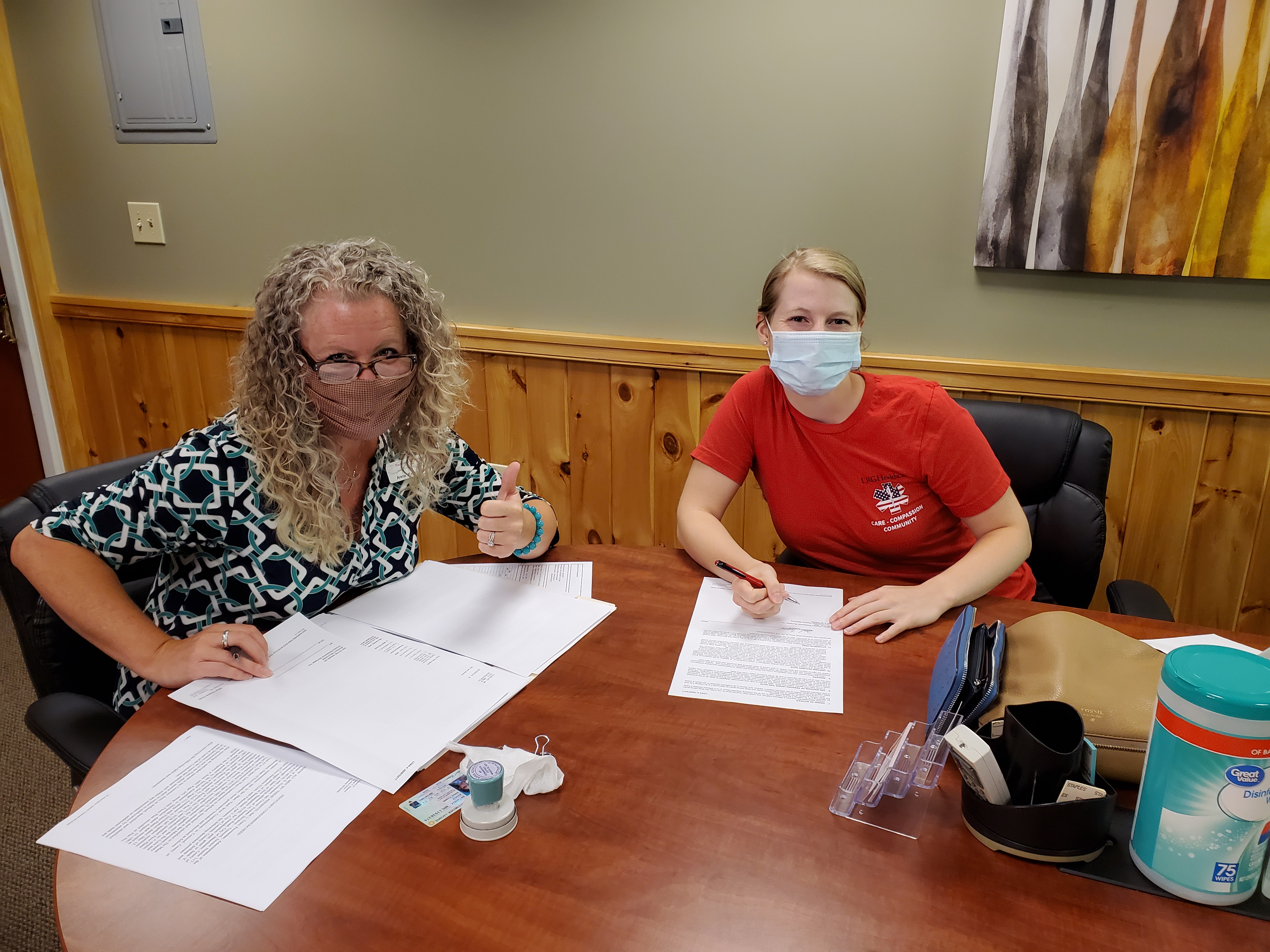 Despite the chaos, sickness, struggle, sadness and uncertainty that 2020 has brought, we carried on. People continued to live their lives. They didn't let this year put their lives on hold. We all carried on. Which is the most important takeaway for the year.
As this year ends, we at the Schmidt Home Team are proud to have helped 58 families realize their real estate goals. These buyers and sellers decided to move forward with their plans. They prepared their property for sale – we marketed their property and provided the services they needed to make that change. We helped buyers find just the right property so they could change their circumstances.
As inventory tightened, buyers were open to purchasing land. They had time to spare and they wanted to secure a parcel of land now – and plan their dream home and schedule their move later. By purchasing land, our local economy will be supported by new homes – builders, excavators, loggers, designers, electricians, plumbers, septic installers, well drillers, landscapers, masons, appliance and home goods retailers – will benefit from new construction that will take place in the future.
In the lakes region, the service industry creates many of the jobs here. Once homes are built, other services will be needed – from snow plowing, lawn mowing to cleaning and property checks. Green construction and sustainable methods are more readily accessible and available now to offset some of the environmental impacts of clearing and building. One land sale creates a ripple effect that positively impacts the entire community.
We are proud to be the starting point for the economy. All together the sales transacted by our team in 2020 was over $28,344,000
Peace, fresh air, space, quiet, solitude, community, beauty – surrounded by these here in the lakes and mountain regions of New Hampshire – people are able to adapt, survive and thrive regardless of what is thrown at them. It's the New Hampshire way. We are blessed to be here.
2021 is at our doorstep. Many say to throw 2020 in the dumpster. They have their reasons for sure. But I prefer to look back and learn from it, then look ahead and use that knowledge to embrace every moment with joy. Always forward – never back!
It is with gratitude that we thank all of our buyers and sellers, our current Clients and Customers, and all of the service providers that help us with our transactions. It was a year like no other and we worked together to make life better for so many this year.
We look forward to the end of the virus in 2021 – and a return to more normalcy. We will continue to adapt in our daily work and in our lives to make the best of each and every day.
From the Schmidt Home Team, we wish you a New Year filled with resilience, strength, happiness and the desire to achieve your dreams. If you need us, we look forward to helping!"